From Nick Nuttall, who was in 2015 UN-spokeperson for climate and CoP21
It was on the eve of the major United Nations climate change Summit in Paris where the extraordinary talent of Naziha Mestaoui, the Tunisian-Belgium artist who has died aged 45 years-old, was first glimpsed by millions of viewers around the globe.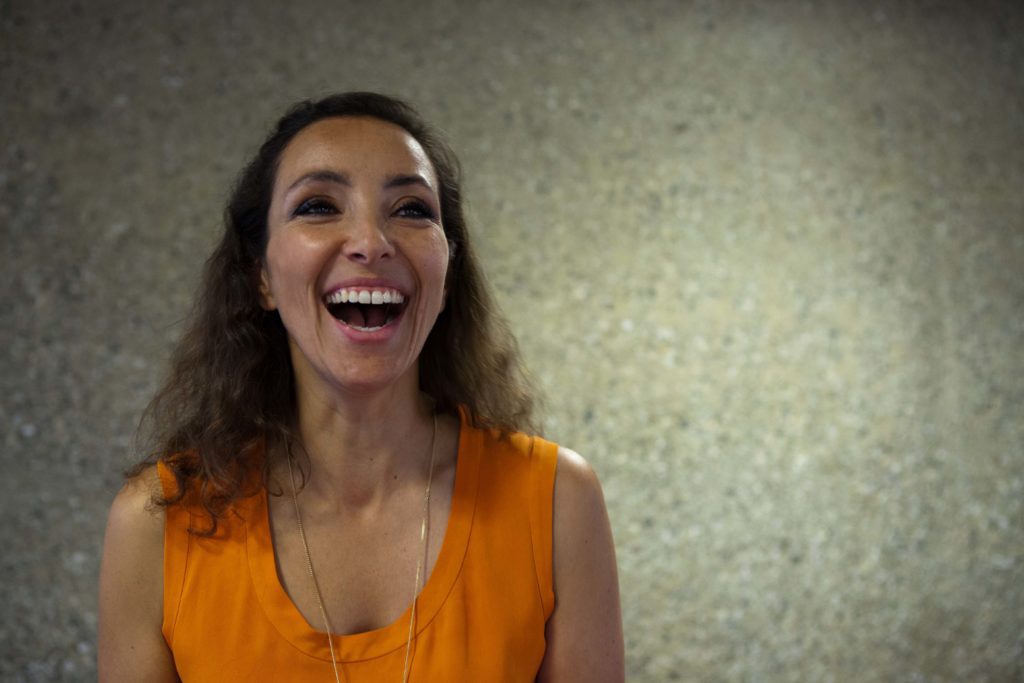 As night fell over the French capital city on the evening of the 29th of November 2015, the iconic Eiffel Tower was transformed from brooding, somber metalwork into a bright green forest of virtual, trees bursting into verdant, rapturous, life every second.
On the banks of the Seine, TV crews and dignitaries including UN Secretary-General Ban ki-Moon; actress Marion Cotillard and environmentalist Nicolas Hulot, applauded from the Mona Bismark American centre as messages of love, the urgency of climate action and hope for humanity were woven into the pulsating art installation.
Few of those watching would have known that they were witnessing the award-winning work of one of the pioneers of real-time video and 3D mapping technology that made the 1 Tree 1 Heart lumiere not only possible, but ground-breaking in breadth, ingenuity and scale.
Her achievement was not just artistic or technological: Naziha had defied doubters, leap frogged the bureaucracy, wooed backers and now astonished Parisians and an international audience alike.
It proved to be a moment of brilliance, innovation and above all inspiration in a city readying itself to host next morning 130 heads of state and close to 50,000 delegates for one of the most important UN Summits in history.
Naziha could not have known when she planned 1 Tree 1 Heart some two years earlier, what it might also mean for the people of Paris.
Yet each growing tree, beamed onto the tower with the beat of a real person's heart, proved an uplifting antidote to a city still raw and mourning as a result of terrorist attacks just 16 days before.
Naziha Mestaoui, who died on 29 April 2020 from a rare condition, was born in 1975 in Brussels, Belgium.
She was a polymath weaving a unique artistic style that combined architecture, the impact of advanced technologies; environmentalism and increasingly a fascination for the way indigenous peoples in places like the Amazon relate to nature as equals.
Some of her early love for the natural world is credited to the shared interest in curative plants by her father Azedine, who came from a family of prosperous traders from Djerba, Tunisia and her Belgium mother Francine.
Home was also often full of injured animals which Naziha and her two sisters would care for.
In an interview in De Tijd in 2017, she recalled: "As a child I already loved nature. Whenever we found a wounded bird in the park, we took it home with us to take care of it. Sometimes we had as many as 30 animals in the house, from squirrels to parakeets or magpies. We put birds under infrared lights and ground-up grains to feed them more easily".
Naziha indeed expressed her view later in life that care for nature was woven into her very being. She once told a journalist at Le Figaro: "I am descended from a well-known saint in Djerba, whose name, Mestaoui, means "guardian of the land"–the one who takes care of nature. It's in my DNA."
By the age of 18 Naziha, who was fluent in three languages, had decided to attend architecture school. She took with her a fascination for quantum physics which, as a way of explaining the visible but also the invisible forces at work in the world, would also shape her view of humanity and its place in nature.
It would eventually also lead her to meet, intellectually connect and be inspired by the cultures of indigenous peoples, including those in the Amazon, where she later formed a life-long bond with communities such as the Huni Kuin who straddle Brazil and Peru.
She studied at the Graz Institute of Technology in Austria and La Cambre—a Brussels-based institute famous not just for architecture but for its school of visual arts—between 1996 and 1999.
During this period Naziha also co-founded LAB(au), a collective exploring the impacts of advanced technologies on art, before moving to Paris, to collaborate with the artist and author Yacine Ait Kaci.
Under the name Electronic Shadows, the duo evolved and push the frontiers of their unique style of light, sound and digitalization. It attracted the attention and commissions from the Museum of Modern Art, New York and the Centres George Pompidou to Tokyo's Metropolitan Museum of Photography and the FRAC Centre in Orleans.
After 2011, Naziha embarked on a solo career, founding the initiative Act with Art, with a stronger focus on environment and spiritual values. Her first visit to meet the Huni Kuin came in 2012 on a trip to Brazil.
It was life-changing event, accelerating not only a determination to act on environmental damage but crystalizing the concept of 'fygital'—the idea that a digital art installation can inspire transformational acts in the real world
Naziha described the moment when she had the idea for 1 Heart 1 Tree. She had been taking part in a traditional ceremony involving a special, locally brewed beer.
"A drummer was playing a rhythm all the time. And after a while you notice that everyone's heartbeat is synchronized to it. You live on the same frequency and that connects everyone," recalled Naziha.
That moment in the forest, hundreds of kilometres from the nearest city, led to the Tunisian-Belgium artist designing a digital App. This allowed a person to select from the screen a tree, using their finger, and the App to sense his or her heartbeat from the person's pulse.
In Paris, on the eve of the landmark COP21 UN Climate Summit, this was the special effect that in part created the unique spectacle witnessed by the dignitaries on the Seine and TV viewers world-wide.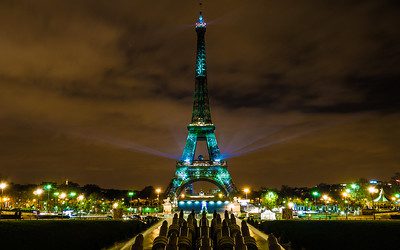 In the real world, the trees chosen and paid for by participants led to the planting of 100,000 trees in sites ranging from Brazil and Peru to Kenya and India that have not only helped fight climate change but improve the lives of local people.
After Paris 2015, Naziha returned every year to spend a few months with indigenous peoples in Brazil and embarked on new projects including an orange tree program in Senegal with the charity Océanium.
Before her death she was in early discussions with partners in Miami, Florida and the UN Environment on a project called 1 Heart 1 Ocean.
A marine equivalent of the climate installation that electrified the world in 2015, the new project would have had corals and seagrasses beamed onto iconic buildings to allow people to support ocean restoration in the real world.
Naziha Mestaoui, environmentalist, pioneer of 3D digital art installations and architect, is survived by her parents Azedine and Francine and her 2 sisters